St. Joseph's Community Health Foundation Awards
March 21, 2016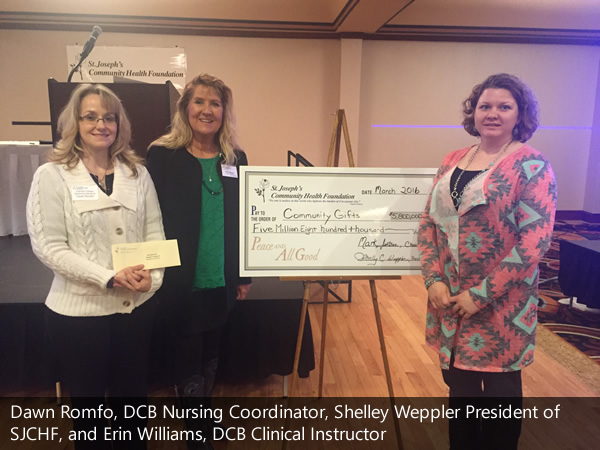 St. Joseph's Community Health Foundation awards a $2,000.000 scholarship in Honor of the Sisters of St. Francis for the benefit of Dakota College at Bottineau student studying nursing.  St. Joseph's Community Foundation awards a nursing student each year from the Dakota College at Bottineau a $2,000 nursing scholarship. The nursing student is awarded the scholarship according to the qualifications set by the St. Joseph's Foundation Committee. The student awarded has to be from one of the St. Joseph's Community Foundations eleven counties, enrolled in a nursing program, have academic performance and other factors that is determined by the nursing department. Student receives the scholarship in the spring semester.  Dakota Nursing Program at DCB greatly appreciates the generous donation to our nursing program.  The act of kindness from the St. Joseph's Community Health Foundation is truly appreciated.
---
Allied Health Programs at DCB
March 21, 2016
The Allied Health Department at Dakota College at Bottineau currently offers two Associate of Applied Science (AAS) degrees, and two Diploma programs. Students can either choose a diploma track or AAS track in Medical Assisting. Medical Assistants can be a tremendous asset to medical clinics and specialty clinics by performing such tasks as rooming patients, taking vital signs, giving injections, and assisting with procedures. Medical assistant students are also trained in front office skills such as coding and office management so they are of particular value in rural clinics where they can truly function as a jack-of-all-trades. Our Medical Assistant graduates are eligible to sit for exams through either the National Center for Competency Testing, or American Medical Technologists to become Nationally recognized.
Dakota College at Bottineau (DCB) recently partnered with Sakakawea Medical Center (SMC) in Hazen. A clinical instructor from SMC provided DCB students with hands-on learning in an otherwise fully online program.  Two students who have taken advantage of the partnership are scheduled to receive their diplomas at the end of the summer term. One of them had this to say,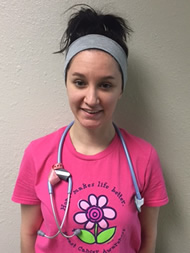 "My name is Amber and I currently live in Beulah, ND. I am taking the Medical Assistant Program through DCB to get a diploma in Medical Assisting. Through this program, I was still able to work a full-time shift-work job and a part-time cleaning job, on top of going to school full time and maintaining good grades. This program is very convenient as I never had to drive more than 10 minutes, even for clinical work. All of the instructors are great to work with, and I am glad they provided myself and our community with this opportunity. DCB provided an on-site instructor through Sakakawea Medical Center in Hazen, which helped ease the completely "online" factor. DCB also handled figuring out where to do my internship, so that eased stress as well. After graduating with my diploma, I hope to acquire a job at one of the clinics in town working Monday through Friday. This program was less than a year of schooling and also helped me prepare for any future schooling I might decide to do. I encourage anyone interested in this program to look into it. It was well worth it for me and pays off! Thank you again for this opportunity!"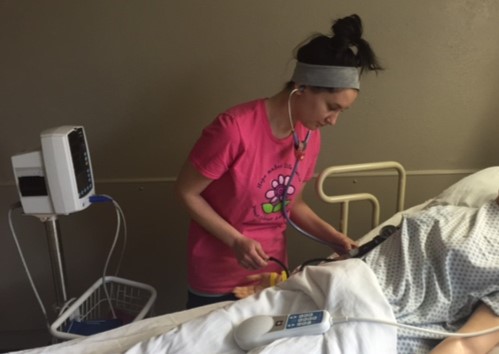 DCB also offers an AAS in Medical Administrative Assistant. Graduates of this program are eligible to sit for an exam to become nationally certified.  This program can be completed on-campus, at our IVN sites, or entirely online.  Another program offered at DCB is the Diploma in Medical Coding. This can be completed entirely online. Medical Coders are always in demand, and there is potential for flexibility in work opportunities such as the possibility of working from home after getting experience in a facility.
The face of healthcare is changing, and as we forge ahead into the age of the Electronic Health Record, DCB will soon be able to offer a program in Health Information Technology.  Tentatively, this program is scheduled to accept its first students in the Fall of 2017.  It's encouraging to know that we are moving closer to a time that no matter where you may need emergency medical care, your health information will be accessible with a few keystrokes. It's convenient to be able to go online and see all of your recent test results in one place. These are all parts of Meaningful Use, a component of the American Recovery and Reinvestment Act signed in 2009. As exciting as these changes are to patients who want to be more engaged and confident in their own healthcare, it is exciting for us at DCB to know that we will soon be preparing the Health Information Technicians who help make this possible.
---
Would You Leave Your Door Open for a Thief?
Are Your Electronic Devices Secure?
March 9, 2016
The majority of people own at least one electronic device such as a mobile phone, tablet or computer that is used for texting, e-mailing, depositing checks, paying bills, making loan payments, and connecting to others through social media.  Hackers are not interested in just computers anymore. Without a secure password any device connected to the World Wide Web becomes a potential target for cybercriminals who may steal a person's identity and use the device's content for their own malicious purposes.
Avoid using the following items in a password:
log in name, pet's name, grandchildren's name (any family member's name), or any other common name
personal information such as phone number, birthday, credit card number, child's birthday, or address
the words "change me," and "password,"
words contained in the dictionary or a foreign language dictionary
sequences of numbers or letters such as "12345" or "abcdef"
With so many items to avoid, it seems almost impossible to create a secure memorable password.
A secure password should contain:
a minimum of twelve characters (length is better than complexity)

for example:  "L8Ab$"  would take a password cracking program less than a second to decode
while the longer password "spainrainpuddles" would take a desktop computer over one thousand years to hack
"spainrainpuddles" is more secure because it is read as one long word rather than three simple words by the password cracking program

a combination of uppercase and lowercase letters
two or more characters such as "@, $, *" If the website you are creating an account with allows special characters.
one or more non-repeating or non-consecutive number(s)
To create a secure, memorable password try the following method:
Create a memorable sentence relative to you personally. 

For example:  "My first dog was a golden retriever named Skippy"  "He was my best friend until I was ten"

Use the first letter of each of the words in the sentence for your password.  The result of the above sentence would be:

MfdwagrnSHwmbfuiw10

Now change two letters in order to include special characters and numbers.

change the f from first to the number 1  (1 is an alternative in our language for "first")
change the number 10 to special characters by pressing the shift key the 1 becomes the !, exclamation point,  and the 0 on the ten becomes the ), right parenthesis
the end result is:  M1dwagrnSHwmbfuiw!)
This is a sentence that only you will know and a password that will be almost impossible to break.  Test your new password by entering a similar one at the following websitehttps://howsecureismypassword.netto find out how long it would take a desktop computer to "crack".  Taking the time to create a secure password now may save you hours or months or years correcting the damage that a hacker can do to your reputation and financial history through malicious actions. 
*Keller and Schimetz are Information Technology instructors at Dakota College at Bottineau. 
---
Dakota College at Bottineau Awarded Otto Bremer Trust Grant
March 8, 2016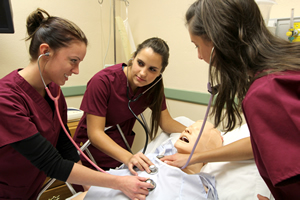 Dakota College at Bottineau has been awarded a grant in the amount of $99,224 from the Otto Bremer Trust of St. Paul, Minnesota. The grant is for equipment necessary to establish a satellite site of the Dakota College at Bottineau nursing program in Minot. The program will use the funds to outfit two classrooms at Trinity Health Center with Interactive Video Network (IVN) technology and simulation training mannequins. The IVN classroom will allow students at the Minot location to access nursing classes taught on the Dakota College campus in Bottineau. Simulation training mannequins allow faculty to create a learning environment that closely resembles true-to-life situations students will encounter, ensuring that program graduates are well-prepared to enter the nursing workforce.
Dakota College at Bottineau's nursing program is a member of the Dakota Nursing Program, a consortium of four community college nursing departments which work together to offer a common curriculum for a Practical Nursing Certificate and for an Associate in Applied Science in Nursing.  The program works to meet North Dakota's growing need for nurses by providing these degree programs on the campuses of four two-year colleges and numerous satellite sites across the state. The program partners with medical centers across the state at which students gain practical experience. The nursing program has proven successful, as graduates consistently score higher than the national average on exit exams.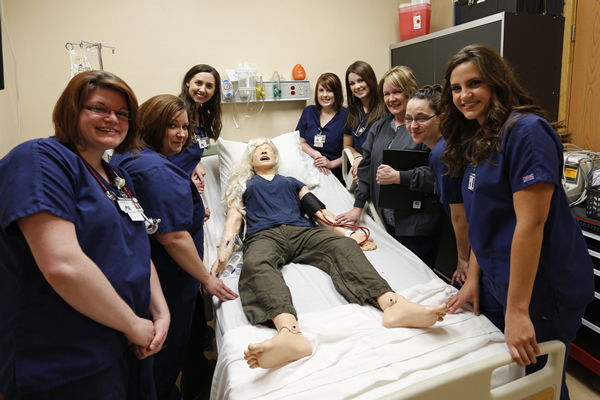 Prospective students who are interested enrolling in a one-year practical nursing program or two-year associate degree nursing program in the Minot area during Fall 2016 can contact Dawn Romfo, DCB Nursing Coordinator, at (701) 228-5433 or via email atdawn.romfo@dakotacollege.edu
---
North Dakota Rural Grocery Initiative moves forward
March 4, 2016
Mandan, N.D.  -- A newly organized task force, the North Dakota Rural Grocery Initiative, is working to capture opportunities identified in a survey of rural grocers operating in North Dakota. The survey, conducted in 2015, revealed four areas of concern for the rural operators: affordability and availability of product, labor force, networking and education options and the cost of effective marketing.
The task force is working with the North Dakota Grocers Association to distribute a newsletter that will provide information on best practices, changing regulations, upcoming events and small store marketing success stories. Planning is also under way to deliver quarterly educational webinars for store managers and boards of directors.
In the upcoming months, the task force will begin to contact rural grocers to aggregate data related to supply and marketing. This data will be used to identify whether there are changes that can be made in the way stores currently operate to bring about cost savings. For example, there may be opportunities for small operators to purchase certain items collectively to secure a discount for a larger volume order. The same could hold true for marketing.  Small stores may be able to make a stronger "buy local" statement by collectively participating in a unified marketing campaign.  The North Dakota Association of Rural Electric Cooperatives will provide a section on their website atwww.ndarec.comto host information related to the North Dakota Rural Grocery Initiative.
The National Rural Grocery Convention is scheduled for June 6 and 7 in Wichita, Kan. If there is adequate interest, the North Dakota Farmers Union will sponsor a bus to transport interested individuals to the conference. Attendees would be responsible for their own lodging, meals and conference registration. This is the fifth national conference, which will focus on the latest thinking about rural grocery stores and rural community sustainability, best practices, and a path forward for healthy food access in rural places.
The North Dakota Rural Grocery Initiative is a volunteer group comprised of five rural grocers, the North Dakota Association of Rural Electric Cooperatives, North Dakota State University Center for Community Vitality, North Dakota Farmers Union, USDA Rural Development State Office, Dakota College at Bottineau and Northern Plains Electric Cooperative. Grocers who are interested in receiving communications from the Initiative or would like to attend the national convention should contact Lori Capouch or Mary Stumpf at 701-663-6501.