Students Named to the 2016 All-North Dakota Academic Team
April 25, 2016
Five North Dakota community college students have been named to the 2016 All-North Dakota Academic Team, which recognizes the academic achievements of community college students. The students were honored at a dinner and awards ceremony on Thursday, April 21, at Lake Region State College. North Dakota University System Chancellor Mark Hagerott was the keynote speaker for this year's program.
Members of the 2016 All-North Dakota Academic Team, their hometowns and the colleges they attend are as follow:
Samantha Roth, Mandan, Bismarck State College
Ulysses Jones, Devils Lake, Lake Region State College
Alaina McKinnon, Kisbey (SK), Lake Region State College
Taylor Heinz, Wahpeton, North Dakota State College of Science
Jessica Mastel, North Dakota State College of Science
Additionally, Jessica Mastel received the New Century Scholar for North Dakota. Sara Schaefer and Mattie Schmitt, both attending Dakota College at Bottineau, were recognized as community college scholars.

"These students are outstanding examples of academic achievement and community involvement," said Hagerott. "Being named to the All-North Dakota Academic Team is a significant accomplishment, one that reflects positively on both the students and their colleges. This is another example of how students who attend North Dakota's community colleges are well prepared to meet the evolving demands of the workforce or continue on for additional education."

In North Dakota, the community college awards are co-sponsored by Phi Theta Kappa International Honor Society and the North Dakota University System College Technical Education Council. The academic team recognition program is active in 37 states. Students named to the state team also are nominated for the All-USA Academic Team.

Nominations are based on outstanding academic performance and service to the college and community. Each member of the North Dakota team receives a certificate of congratulations from Gov. Jack Dalrymple, an award certificate, a medallion and a monetary award. Team members are also eligible for scholarships from Dickinson State University, Mayville State University, Minot State University, Valley City State University, North Dakota State University and the University of North Dakota. The University of Mary and University of Jamestown also offer awards to All-North Dakota Academic Team members.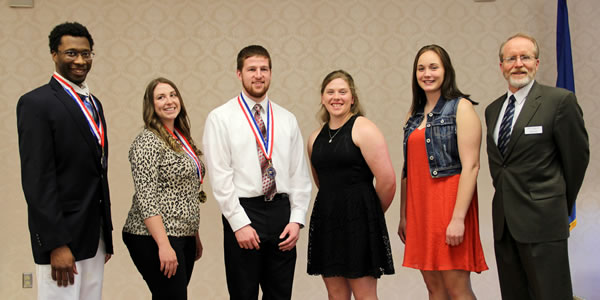 Phi Theta Kappa
Pictured from left, are: Ulysses Jones II (LRSC), Samantha Roth (BSC), Taylor Heinz (NDSCS), Sara Schaefer (DCB), Mattie Schmitt (DCB), and NDUS Chancellor Mark Hagerott. Not pictured: Jessica Mastel (NDSCS) and Alaina McKinnon (LRSC). Photo courtesy of Lake Region State College.
---
Julie Traynor, Director of the Dakota Nursing Program, has been selected for an Outstanding Rural Health award.
April 21, 2016
Traynor will be recognized as the Outstanding Rural Educator/Mentor at the 2016 Dakota Conference on Rural and Public Health's annual banquet on Tuesday, May 17, in the Alerus Center. This award recognizes a professional who has made outstanding contributions to the education, development, and placement of new health care professionals in rural North Dakota communities.
"Julie is an innovative, inspiring and compassionate mentor and leader who puts forth high expectations but provides the autonomy and support to allow staff, faculty and students to thrive and grow," said Karen Clementich, LRSC Nursing Coordinator.
Traynor became involved with Nursing Education at Lake Region State College (LRSC) in 1999 when she developed and administered an assessment to understand the need for healthcare workers and nursing education in northeast North Dakota. Based on the findings, Julie led the effort to cultivate the Practical Nursing Program at LRSC in partnership with Williston State College. The task required collaboration, grant writing, building relationships, acquiring access to clinical facilities and approval from the ND State Board of Nursing.
With over two decades of nursing experience, Julie was named the Faculty/Coordinator of the Practical Nursing Program overseeing the LRSC and Williston campus programs. With a goal to provide more healthcare training and education in rural North Dakota, Julie spearheaded the creation of the unique collaborative Dakota Nursing Program, where she currently serves as director of the four-campus program including Lake Region State College, Bismarck State College, Dakota College at Bottineau and Williston State College.
Julie's philosophy is to train and educate individuals in the community where they live, allowing them to stay and work in that same community. She applies this practice in rural communities throughout North Dakota. The DNP literally brings their program to rural towns. Carrington, Langdon, Hazen, are just a handful of areas where the DNP has educated and graduated dozens of individuals living in rural communities.
The nursing education experience, under Julie's direction, has taken a leap forward with innovative education methods and technologies. Clinical and lab experiences have been enhanced with advances in simulation technology, which provide mannequins equipped to mimic many medical conditions. Simulation creates real-life emergency and critical care medical situations and allows students to engage in hands-on learning while in a monitored setting.
Because Julie believes in the furthering of healthcare education, she also facilitated articulation agreements with Minot State University, Mayville State University and University of Mary, providing students an opportunity to earn their Bachelor of Science in Nursing.
The banquet is open to the public. To purchase tickets, contact Julie Reiten at the Center for Rural Health at (701) 777-4173.  For more information about the Dakota Conference on Rural and Public Health visitwww.ruralhealth.und.edu/dakota-conference
The Dakota Nursing Program is a nursing education consortium made possible through the collaborative efforts of four state colleges:Bismarck State College (BSC), Lake Region State College (LRSC), Dakota College at Bottineau (DCB), and Williston State College (WSC). The four community colleges collaborate to provide education for a practical nursing certificate and an associate degree in nursing.
The Dakota Conference is a joint effort by Altru Health System of Grand Forks; the North Dakota Public Health Association; the North Dakota Rural Health Association; the UND College of Nursing and Professional Disciplines; and the Center for Rural Health at the University of North Dakota School of Medicine and Health Sciences.
---
DCB Students Chosen to Attend Summer Undergraduate Research Program at UND
April 20, 2016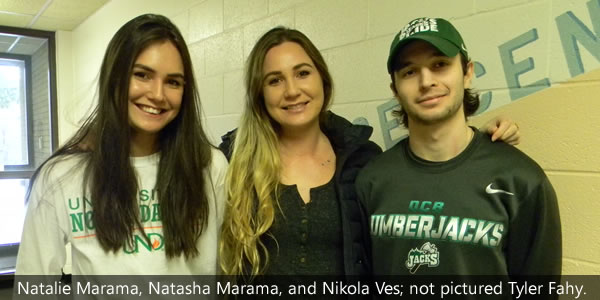 TheNorth Dakota Community College Undergraduate Summer University of North Dakota Research Fellowship (NDCC-USURF) program for North Dakota public community college students is funded by the North Dakota IDeA Network of Biomedical Research Excellence (INBRE).  The goal of the program is to enhance the North Dakota INBRE initiative to attract talented undergraduate students majoring in science, technology, engineering and/or mathematics (STEM) to professional careers in the health sciences.  The program provides a 10-week summer research experience under the direction of selected faculty members at UND.  Opportunities exist for research in the basic and biomedical sciences.  Seminars will cover a range of basic science to community-based biomedical research program topics.
The NDCC-USURF program has up to ten openings for the summer of 2016 for undergraduate students attending one of the following public, two-year community colleges in North Dakota:  Bismarck State College, Dakota College at Bottineau, Lake Region State College, North Dakota State College of Science or Williston State College.  Participants will receive $5,000 based on a 10-week, 40 hours per week research training experience at the UND campus in Grand Forks, ND. 
Four Dakota College at Bottineau students (Nikola Ves, Natasha Marama, Nathalie Marama, and Tyler Fahy) applied and were selected to participate in this program.  All four students are majoring in health professions and will be pursuing careers in the medical field.
---
Dakota College LumberActs Announces Dinner Theatre
April 20, 2016
Dakota College at Bottineau's LumberActs presents a dinner theatre production of "My BFF" at the Cobblestone Inn, Thursday, April 28, at 6:30pm.
My BFF  is an original comedy written by Michelle Ceasar-Davis, a staff member at DCB.
"Our intention was to produce 'Harvey' this spring, but we didn't have the required number of actors," Davis said. "I liked the premise of that play and used it as inspiration for my play."
InMy BFFa young man has developed an odd relationship with a clock radio and his friends want him to seek help through addiction counseling. It is only when they visit him at the treatment center that they realize being normal isn't for everyone.
The cast includes Jaquel Felder of Temple Hills, Maryland, Alexis Genareo of Sherwood, North Dakota, Paulo Ta'a of Kent, Washington, Tyler Sheffer of Victor, Montana, Taylor Hewson of New England, North Dakota, Sadie Hackman of Velva, North Dakota, and Dan Fyckes of Norwood, New York.
Tickets are $30 each and include a meal of steak or chicken, baked potato, vegetable, and dessert. Premium tables, with seating for 8, are $300. For tickets, call the DCB Foundation Office at 701-228-5435 or stop by the DCB Bookstore.
Bakken U Scholarship Application Now Open
April 14, 2016
Bismarck, N.D. -- Applications are now open for more than $20,000 in scholarships that have been announced under the North Dakota University System's Bakken U initiative.
The initiative was created during the last academic year to help encourage oil workers, recently displaced oil workers and their spouses to go back to school at one of the state's public colleges and universities. Numerous awards were made for the 2015-16 academic year, including the inaugural $5,000 Bakken U scholarship that was awarded to former oil worker currently attending Dickinson State University.
Chancellor Mark Hagerott said the initiative was one way to help those directly affected by a decrease in oil activity learn new skills by going back to school.
"We were pleased at the number of applicants this past year who showed their own initiative in adding to their respective educations," Hagerott said. "We're happy to be able to bolster their skillsets through the many programs available at the western institutions in our state. These oil field veterans have proven they can work hard, so these scholarships will help jumpstart them to work on expanding their knowledge and job marketability."
For Fall 2016 semester, the North Dakota Petroleum Council will again partner with the NDUS to offer one $5,000 scholarship. Additionally, DSU will offer one 4-year scholarship with a total value of more than $9,000. Minot State University will offer two $1,000 scholarships and Williston State College will offer five $1,000 scholarships.
For more information, go tohttp://BakkenU.NDUS.edu. Applications are due by June 15, 2016.
---
Dakota College at Bottineau Announces Final Presenters for Book Read
April 5, 2016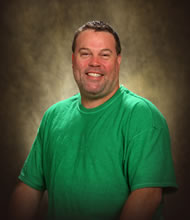 Dakota College at Bottineau is coming up on their end of the year presentations to support this year's campus book read, The Circle by Dave Eggers. This novel tells the story of Mae Holland, who starts a new job at a technology company that uses and promotes social media. The Circle raises issues and asks questions not only about the uses of digital technology, but also about its potential abuses and misuses. These presentations are intended to further the issues raised in The Circle and to add information about technology and its uses not presented in the novel.
On April 20 at noon and again at 7 pm in the Centennial Alumni Center, Ken Cabarle, DCB Assistant Professor-Fish and Wildlife Department will present information about GPS in Natural Resource Management.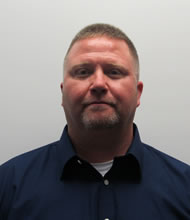 On April 21 at noon and again at 7 pm in the Centennial Alumni Center, Tony Aukland Information Systems Security Analyst for the State and Local Intelligence Center will be discussing cybersecurity trends and methods nationally and locally.  He will also discuss the NDSLIC, North Dakota State and Local Intelligence Center and the role NDSLIC plays in Cybersecurity for the State and Private Industry. Tony Aukland, has been working IT 20 years for the State of ND.  Tony is an employee with the state Information Technology Department and has had many roles including Desktop (physical and virtual) Systems/Server Administrator, Unified Communications and Security.  He is attached to the NDSLIC, North Dakota State and Local Intelligence Center, as an IT Security Analyst focusing on Cybersecurity.
These events are open to the public. No admission is charged. At the noon presentations, a box lunch can be purchased from DCB Food Services.
---
Higher Education Committee to Meet in Bottineau
April 1, 2016
On Monday April 18, 2016, the Legislative Management's ND State Interim Higher Education Committee will meet in Bottineau.  A meeting notice will be distributed to the media by the Higher Education Committee. 
The agenda will include presentations and committee discussion regarding higher education.  It will also include an item for public comment if anyone from the campus or community would like to address the committee.
The public is welcome to attend.  The meeting will be held at Dakota College at Bottineau in the Centennial Alumni Center located in Thatcher Hall beginning at 1:00 pm.
---
Kotchman to Receive DCB Conservation Award
April 1, 2016
The annual Dakota Collage at Bottineau "DCB Conservation Award" will be presented on Wednesday, April 20 at 10:30 A.M. in the Alumni Center - Thatcher Hall.  This award is being given during the school's annual Earth Day Celebration.
Dakota College at Bottineau has developed aNature, Technology, and Beyond focus which grew from its founding mission in 1906 of providing educational programming for those choosing a career that promotes care and concern for the environment.  This focus and mission is uniquely expressed in the college's original mission statements that prescribe practical and efficient training in forestry, horticulture, agriculture, and nursery and greenhouse practice; and, advocates for a trained eye to observe and a skilled hand to execute. Dakota College at Bottineau is rooted in the past and grows towards the future emphasizing a knowledge and appreciation of Nature, implementing rapidly changing Technology, and preparing students to go Beyond and improve the quality of life.
The DCB Conservation Award is presented by Dakota College to an individual who has demonstrated leadership and has made notable contributions to the conservation, preservation, and enhancement of our precious natural resources.  This person will have contributed in an exceptional way that has had a significant impact for the common good.
Criteria used for selecting the DCB Conservation Award recipient are as follows:
Wide recognition for expertise, vision, and problem solving;
Demonstration of enduring commitment;
Development of partnerships;
Generation and stimulation of community support;
Promotion to new audiences through educational efforts;
Catalyst for positive change.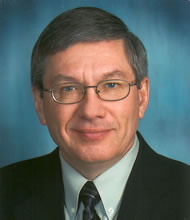 The 2016 recipient of the DCB Conservation award is Mr. Larry Kotchman.
Larry A. Kotchman is the North Dakota State Forester.  He is responsible for the administration of the North Dakota Forest Service, a related entity within the North Dakota University System, located on the Dakota College at Bottineau campus, and aligned administratively with North Dakota State University.  The NDSU-North Dakota Forest Service mission isto care for, protect and improve forest resources to enhance the quality of life for future generations.  Kotchman's major duties involve directing state and private forestry services through three leadership teams comprised of 29 full-time and approximately 50 seasonal employees.  He is also responsible for managing 13,290 acres of state forests and the Towner State Nursery, which has an annual production of one million conifer (evergreen) seedlings.  Kotchman was appointed state forester in 1986 by the North Dakota Board of Higher Education.  He began his career as an assistant area forester with the Wisconsin Department of Natural Resources in 1972.  
Kotchman graduated with distinction with a Bachelor of Science degree in Forestry from the University of Minnesota in 1972.  Kotchman received an Associate of Science Degree in Forestry from Dakota College at Bottineau (then North Dakota State University – Bottineau) in May 1970.  He is also a 1997 graduate of the Senior Executive Fellows Program at the Kennedy School of Government at Harvard University.  He is a past president of the National Association of State Foresters, and served two terms as chair of the Council of Western State Foresters.  Kotchman is also the recipient of numerous awards, including the National Association of State Foresters' Conrad Motyka Current Achievement Award for Leadership in 2009, and the Jim Hull Lifetime Achievement Award in 2012.
Larry and his wife, Alice, reside in Bottineau, North Dakota.