Dr. Jerry Migler Named Campus Dean at DCB
July 30, 2015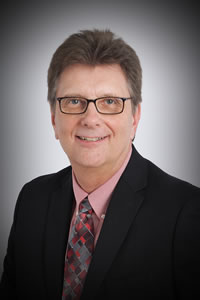 Dr. Jerry Migler was named Campus Dean for Dakota College at Bottineau (DCB) on July 30, 2015.
Migler currently serves as vice-president of academic affairs for the Colorado Community College System. The CCCS, based in Denver, is Colorado's largest higher education system and oversees career and academic programs in the 13 state community colleges as well as career and technical programs in more than 160 school districts and six other post-secondary institutions.
Migler previously served as provost and executive vice chancellor at Pima Community College in Tucson, AZ. Prior to that, Dr. Migler served in administrative roles at Minnesota State Technical and Community College in Moorhead, MN and at the North Dakota State College of Science in Wahpeton. He is a Rugby, ND native with strong ties to north-central North Dakota.
"We are excited to appoint someone with the depth and breadth of experiences like Dr. Migler has to the role of campus dean at Dakota College at Bottineau," said Minot State University president, Dr. Steve Shirley. "His impressive background, dedication to student success, commitment to community college and career and technical education missions, and his love of North Dakota, all combine to make Jerry a superb fit for this role."
"I am extremely honored to be the new campus dean at Dakota College at Bottineau," said Migler. "Having been both a student and former faculty member at DCB, the college is a very special place to me. I look forward to working with everyone at the college and in the community and region to continue the strong tradition of student success that exists at DCB."
Migler earned his doctorate in education from the University of Minnesota. He earned a master of science in agricultural education and a bachelor of science in agriculture, both from North Dakota State University. Migler also attended Dakota College at Bottineau before transferring to NDSU.
Migler will take over as campus dean on September 8, 2015. He will succeed Dr. Ken Grosz, who recently announced his retirement after a successful 40-year career at DCB.
Migler and his wife, Jacalyn Jelleberg Migler, have two grown children, Jessica and Jakob.
About DCB:
Dakota College at Bottineau is a two-year college located in Bottineau, ND and is accredited by the Higher Learning Commission. DCB offers 33 career/technical programs or options leading to certificates, diplomas, or AAS degrees. It also offers transfer coursework leading to AA or AS degrees. DCB is an affiliate campus of Minot State University. It is administratively attached to its parent institution with the Minot State president responsible for overall functions at both sites, and the DCB campus dean providing day-to-day operational leadership for DCB.
Dakota College and Minot State have been cooperating since 1996 to bring quality educational programming to north-central North Dakota. Both institutions belong to the eleven-member North Dakota University System, governed by the ND State Board of Higher Education.
DCB receives Department of Education grant of $1.1 million over Five Years
July 30, 2015
BOTTINEAU - A press release from Senator Hoeven's office announced this week that Dakota College at Bottineau will receive federal Department of Education grant funds of $1.1 million over five years. This funding is part of the Department of Education's TRIO Student Support Services (SSS) Program, which seeks to provide academic and general support services to low-income, first-generation or disabled college students in order to increase graduation rates, create a climate that will facilitate student success and help them transfer from two-year to four-year colleges.
Dakota College will use grant funds to enhance their student services by launching a new Student Support Services program on campus. This program is designed to increase graduation, retention, and transfer rates among student populations that struggle to complete a degree. "The DCB faculty and staff strive to do whatever is necessary to help students succeed," commented Campus Dean Dr. Ken Grosz, "and the Trio Grant provides additional resources that will enhance their efforts." Four new staff positions will be created to run the program including a Director, two Coordinators and an Administrative Assistant.
This is the first time Dakota College at Bottineau has received this grant. Eight colleges in North Dakota were awarded funds under the TRIO Student Support Services grant program.