Lauren Lamb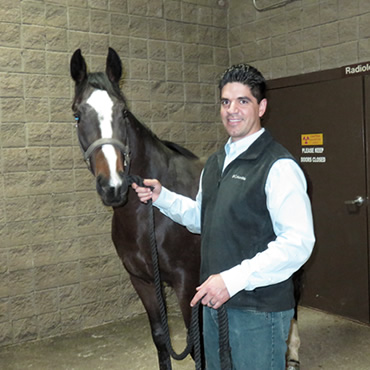 "My time at DCB was extremely valuable in getting where I am today."
Bottineau alumnus Lauren Lamb is a successful veterinarian who works as a surgeon in one of the most prestigious animal hospitals in the nation. If one speaks to Lauren about his journey in becoming a veterinarian he will tell you that his start at Dakota College at Bottineau (DCB) is one of the main reasons he is a vet today.
"My time at DCB was extremely valuable in getting where I am today," Lauren said. "I had the opportunity to receive a high quality education, develop time management skills, establish a strong work ethic and become part of the DCB family. The education I received at DCB was outstanding."
Lauren attended DCB for two years before going on to North Dakota State University (NDSU). After only spending a year at NDSU, he was accepted to veterinary school at Texas A&M College of Veterinary Medicine and Biomedical Sciences.
From Texas A&M, Lauren did his internship at the Oakridge Equine Hospital in Edmond, Oklahoma, which specializes in equine sports medicine and surgery.
He stayed on at Oakridge after his internship and did his three year residency at the facility. With his residency completed, Lauren accepted a position as an associate surgeon at the Oakridge facility.
In the spring of 2012, Lauren was given the opportunity to take the large animal surgery board exam, which he passed and became a diplomat in the American College of Veterinary Surgeons.
In that same year, he became an assistant professor at Texas A&M College of Veterinary Medicine and Biomedical Sciences where he trained veterinary students, interns and residents in large animal soft tissue surgery.
He stayed at Texas A&M for three years, but in 2015 he returned to Oakridge as an associate surgeon, a position he holds in Edmond today.
What Lauren enjoyed at DCB was the college's unique size.
"The classes were small, which for me was great," Lauren said. "I clearly communicated my long term goals to each of my professors that they in turn pushed me to achieve my goals."
"This is not the typical interaction seen in large universities with large class sizes and this is what makes DCB special."
While at DCB, Lauren also played basketball, which he said added to his education and daily life as a veterinary.
"Along with some great memories and friendships I developed while playing basketball, I also had the opportunity to develop time management skills that I utilized every day in my career," Lauren said.
When Lauren thinks back about his start in his college career, he feels DCB was the right choice for him in becoming successful in his career and life.
"I had a great foundation in my education when I left DCB, which I was able to build on moving forward in my educational endeavors," Lamb said. "I am thankful for my time at DCB and am appreciative of all the opportunities I was given while attending DCB."
Lauren and his wife, Jodi, have been married for 10 years, and they have two children, Avery who is four years-old, and Leighton who is 18 months. They are expecting their third child in June.
Seth Serhienko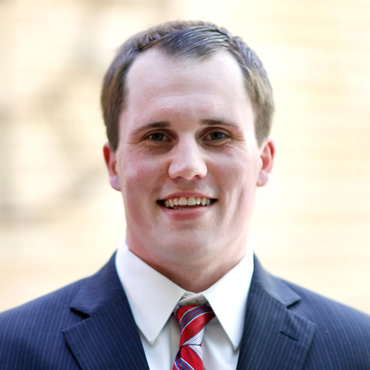 "DCB opened up many opportunities for me and prepared me to continue my education at a four year institution and for my career after that."
One thing is certain about Seth Serhienko, he knows numbers and understands them well. So much so, he is currently a member of the Widmer Roel accounting firm in Fargo, which has a great reputation for the work the company does.
For Seth, he states that his place at Widmer Roel has a lot to do with Dakota College at Bottineau (DCB) and the education he received there.
"I learned a lot of life skills at DCB that continue to help me in my career today," Seth said.
Seth was born and raised in Bottineau, graduated from Bottineau High School in 2011, and went on to attended DCB where he earned an Associate of Science degree in accounting in 2013. He went on to Iowa State University in Ames, Iowa, earning a Bachelor of Science degree in accounting in 2015.
"DCB also gave me an opportunity to earn a scholarship to continue my education at Iowa State University," Seth said. "DCB opened up many opportunities for me and prepared me to continue my education at a four year institution and for my career after that."
After graduating from Iowa State University, Seth accepted a job with PwC in Des Moines, Iowa, as an auditor on the actuarial team. PwC is a Big 4 Accounting Firm, which refers to being one of the four biggest accounting firms in the world, and which holds high ratings in the accounting field.
In 2017, Seth passed his CPA exam, became certified in the State of North Dakota, and accepted his position with Widmer Roel in the Fargo where he supervises audits in a number of industries. Seth also performs compilation and review services for Widmer Roel.
Along with his duties at the firm, Seth assist fellow employees with reviews, something he said he couldn't do without the education he acquired at DCB.
"Many people I work with ask me to review their letters and other communications to clients due to the writing skills I learned in Mike Porter's English Composition 1 and 2 classes," Seth said.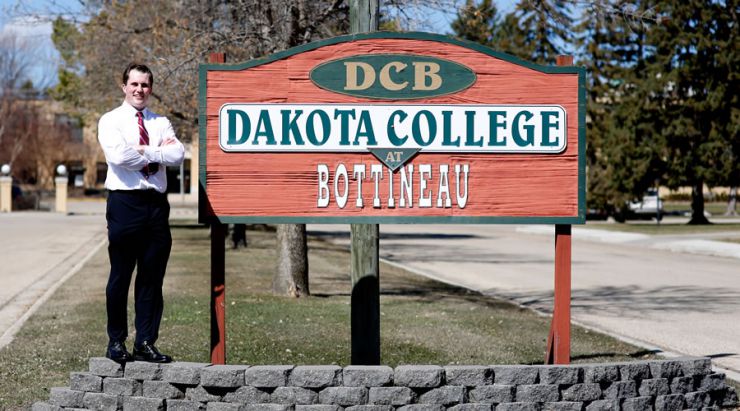 While attending DCB, Seth played hockey for the college and then moved on to Iowa State University's hockey program, a Division 1 program at Ames.
Seth said that hockey added to his time at DCB in a positive way.
"I made many friends through hockey at DCB that I still stay in contact with today," Seth said. "I also have many great memories from the road trips we went on as they allowed me to see many different places that I would not have normally gone to.
"Playing at DCB also allowed me to move on and play two more years at Iowa State."
Seth, is pleased he made the decision to come to DCB.
"I have many great memories from my time at DCB," Seth said.