LeaderJacks Give to the Community
November 30, 2017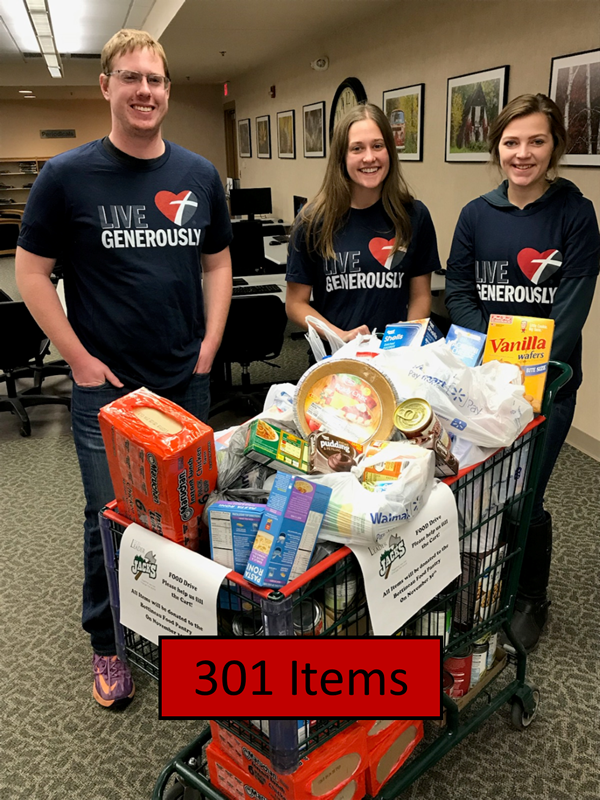 LeaderJacks is a student leadership organization at Dakota College at Bottineau.  The eighteen students recently gave back to the community by collecting items for the Bottineau Food Pantry. They collected 301 grocery items. 
This was not only a way for the LeaderJacks to give to the community, but also a way for them to raise funds to continue assisting charity organizations.  Thrivent Member Network will donate $1.00 to the Bottineau Food Pantry for every item collected. 
The students also hold various bake sales to earn funds to assist in future projects to purchase materials needed for items such as fabric to make blankets for the Linus Project or purchase school supplies to assemble backpacks for students that don't have funds to buy supplies. 
The group was established so students from every program on campus could be involved. The focus of the organization is to develop leadership skills through community involvement. There will be a new group of students in the spring 2018 semester.  Future projects include: Winter Special Olympics, Family Crisis Center & the DCB water festival.
---
Dakota College at Bottineau Honors Program to Present
November 27, 2017
Mark your calendars for the upcoming Fall 2017 Honors Symposium.  The Symposium is Wednesday, December 6th at 5:00 PM in the Alumni Center. 
The Symposium is a capstone event, which represents truly outstanding research and study by our students.  The Honors Program promotes critical thinking and a rigorous academic achievement at DCB. These are some of our very best students doing remarkable work. Their work, study and insights are impressive.
The Biology 220 honors course has two students presenting.  One will present information on celiac disease and the other on multiple sclerosis.  In addition to biology, the sociology and chemistry honor students will also be presenting. 
We understand this is a busy time of the year, but you will not be disappointed in the outstanding presentations.
---
A Wealth of Information - Accessible from Anywhere/Anytime
November 13, 2017
Libraries of today have become much more than store-houses for shelves lined neatly with books, and Dakota College Library is no exception.  The physical collection at DCB contains more than 36,000 items including books, videos and DVD's, books on tape and cd, music on cd,  a variety of state and federal documents, a collection of reference volumes, and about 200 subscriptions to magazines and state, national and local newspapers.
However, a larger part of our collection is available online.  We own literally hundreds of thousands of electronic magazine and newspaper articles, many of which are full text.  These databases are subscription databases and are available at no charge to our patrons.  Dakota College will issue patron cards to area residents at no charge; a quick visit to our library is all that is required.  Once you have an active library card, you can then begin to access any or all of the following databases:
Academic Search Premier—a multidisciplinary database with full text of nearly 4500 journals and cited references for another 1,000 titles.
Business Source Premiere—Industry's most used business research database with full text for more than 2,300 journals.
MasterFile Premier—a multidisciplinary database with full text for more than 1730 reference publications dating as far back as 1975.
Megafile—full text for nearly 12,000 publications with indexing and abstracting for more than 16,000 publications.
Library, Information Science & Technology Abstracts—indexes more than 600 periodicals and research reports on librarianship.
Health Source—magazine, journal and newspaper information on a wide variety of health issues.
Student Resource Center-Gold—In-depth reference content in the areas of biography, business and economics, geography, government, literature and the arts, science and health, social issues, sports and world cultures and religions.
Professional Collection—Full-text periodicals for professional development.
Proquest Newspapers – Includes content from 90,000 authoritative sources along with robust discovery tools to provide rewarding search results.
And many more!
To take advantage of this fantastic opportunity for research, please stop by Dakota College Library.
After obtaining a library card, patrons need to do the following:
Visit DCB's website at https://www.dakotacollege.edu/index.php
Click on Library at the top of the page
Select Online Library Resources on the left side of the page in the gray tabs
Simply scroll down the page to browse our long list and select the database of your choice.
When a log in screen comes up, you will be asked to provide yourlibrary patron number which is the barcode on your library card. This is your username.  The password in your last name(not case sensitive).   This will give you access to any and all of the above databases.  These databases are funded by participating North Dakota libraries and are free to all North Dakota citizens who have a borrower's card.  We invite all area citizens to stop in and request a patron card.  In addition to the fact that the information available in these databases is authoritative and current (most are updated daily), this online library never closes.  Patrons can access materials anytime, day or night.
---
Campus Read Hosts Elk Study Presentation
November 6, 2017
The 2017-2018 Dakota College book read,A Sand County Almanac and Sketches Here and Thereby Aldo Leopold, mirrors and advances the campus interest in natural resources. A series of events are offered throughout the semester with the next event scheduled for the end of November.
Bill Jensen, Big Game Biologist for the North Dakota Game and Fish Department, will be presenting results from a current elk study in the state.  His presentation will be the featured event for the DCB Campus Read program, which is scheduled for noon with a repeat session at 7:00 pm on Wednesday, November 29th.  The presentations will be held in the Alumni Center on the second floor of Thatcher Hall of the Dakota College at Bottineau campus.
The North Dakota Game and Fish Department is currently conducting a study of three small elk herds in North Dakota, which are in the Pembina Hills near Walhalla, the Turtle Mountains, and Porcupine Hills in Sioux County.   Starting in February of 2016, the department placed five GPS radio collars on cow elk in each of the three small herds.  Each of the tagged elk is now sending relocation points every six hours, giving the researchers more than 36,000 relocations from 15 animals.  Jacqueline Amor, a UND graduate student, analyzed these data to determine home range sizes, movements and habitat use of these animals.  The researchers are gaining valuable information about the movements of elk in the state, and the results of the study will be highlighted in the Campus Read presentations.  Given the growing elk herd in the Turtle Mountains, this will be a great opportunity to learn more about what this means for our area.
---
DCB Hosts Math Competition
November 3, 2017
Dakota College at Bottineau hosted their 6th Annual Math Track Meet on Thursday, November 2nd on the DCB Campus. Twelve schools participated, teams consisted of two students from 9th/10th grades and two students from 11th/12th grades.
Drake-Anamoose High School (1 team)
Glenburn High School (2)
Kenmare High School (2)
MLS High School (2)
Newburg United High School (2)
Rolla High School – Mt. Pleasant (2)
Rugby High School (2)
St. John High School (2)
Turtle Mountain Community High School (2)
Velva High School (2)
Westhope High School (2)
Burke Central (2)
This friendly competition challenged 23 teams of 92 student's math abilities with a variety of tests conducted throughout the morning. As a result, mathletes were awarded with certificates and the top three teams received medals.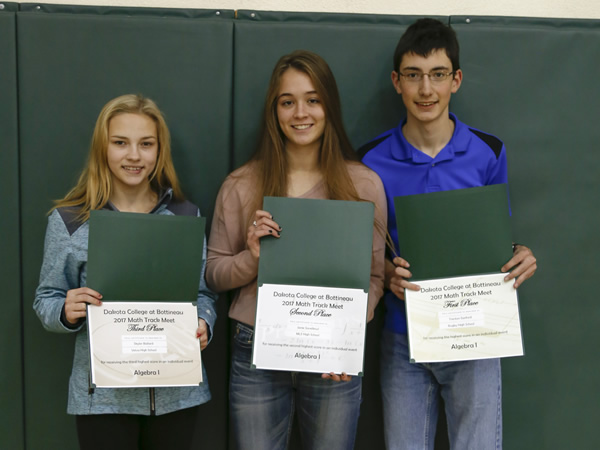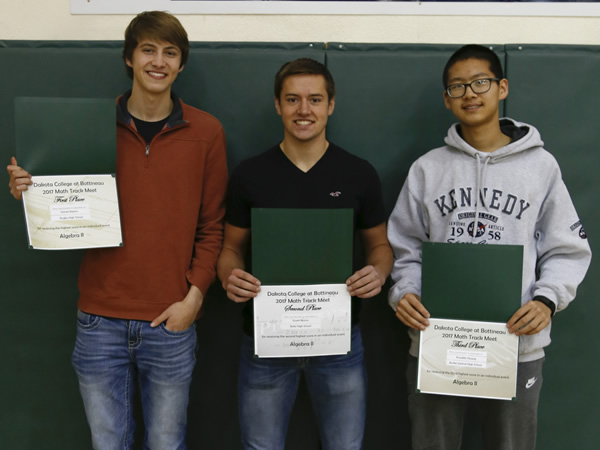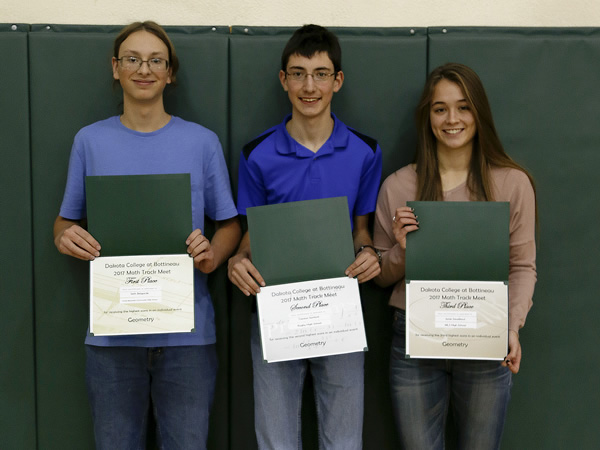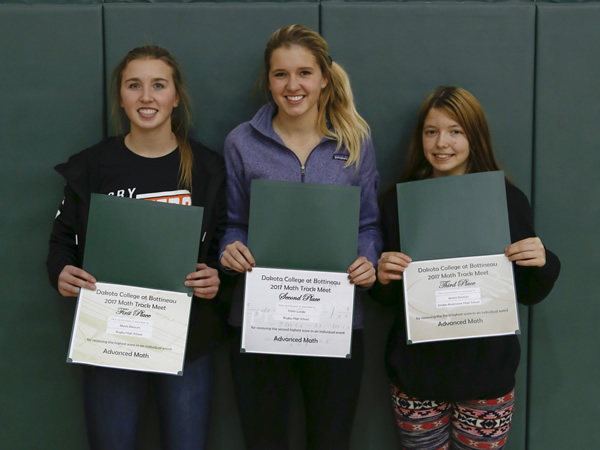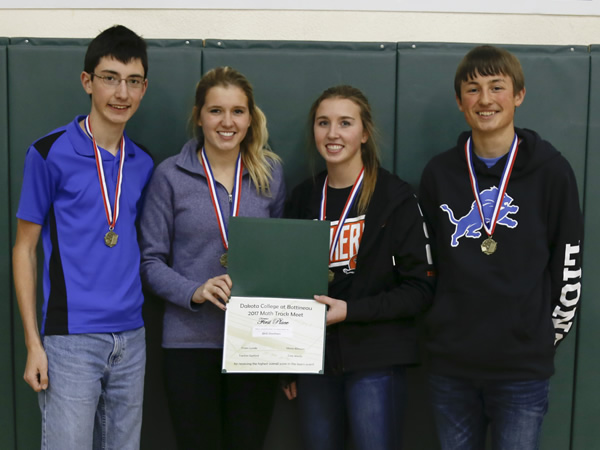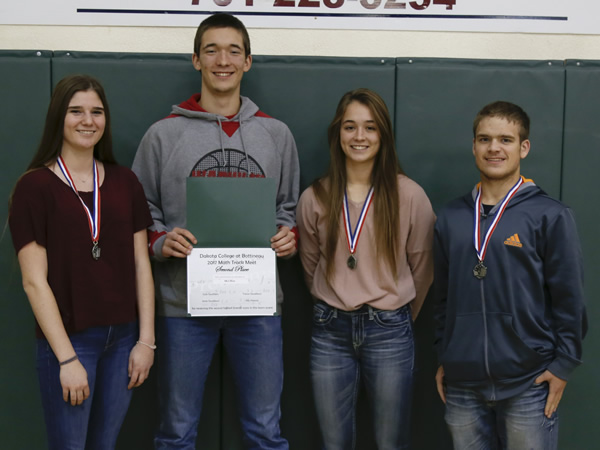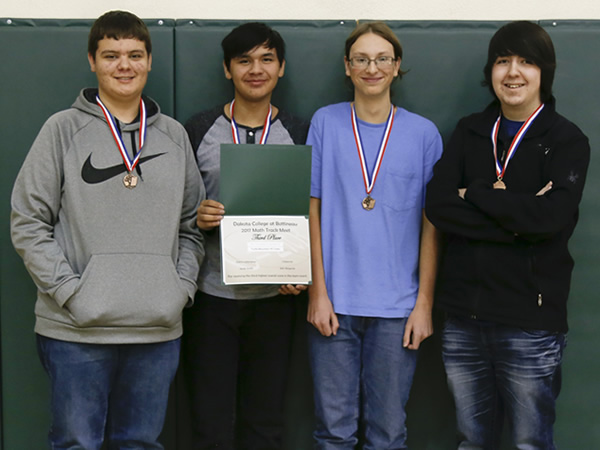 ---
DCB LumberActs Announces Theatre Production
November 2, 2017
The Dakota College at Bottineau LumberActs recently announced their fall theatre production is the comedy hitCrazytownby Jonathan Rand. The LumberActs will be performing November 13 and 14 at 7pm in the Centennial Alumni Center, located in Thatcher Hall on the Dakota College at Bottineau campus. Admission is $5 per person, payable at the door.
Crazytownisn't your parents' news broadcast. It's possibly the worst news broadcast, with the worst anchors and even worse news stories. The anchors have crazy one-liners, and the news stories cover crime, politics, sports, and entertainment – all tongue-in-cheek.
The LumberActs consists of 20 actors from North Dakota, Colorado, Nevada, Washington, Florida, Arizona, Florida, and Tennessee, as well as Australia, and they invite everyone to come out for a night of fun and belly laughs.
---
Dakota College Online Paraprofessional Educator Program Earns #1 Ranking
November 1, 2017
Onlinecolleges.com has released its top five rankings for online teacher aide programs in the nation. Dakota College at Bottineau ranked in at #1 with the online paraprofessional educator program. The paraprofessional educator early childhood major prepares individuals to work with children in a variety of settings including daycare centers, preschool programs, home childcare, and schools. Students learn to plan activities that promote the physical, cognitive, social, and psychological development of children. The A.A.S. major has two options: a pre-school program option that focuses on education and a family childcare option that incorporates business management into the curriculum.
A variety of factors went into the ranking of the top five colleges. Onlinecolleges.com required colleges to meet the following criteria:
Offer online program in the area
Awarded at least one degree in the program
In-state tuition
Graduation rates
Accessibility
Program prominence, based on how many of the degrees and certificates awarded
Related subjects, based on the number of similar topics for programs in relevant CIP codes that are offered at any level
For more information about the online paraprofessional educator program, please contact the Distance Education Office at 701-228-5623.