DCB Staff Receives Award
December 15, 2016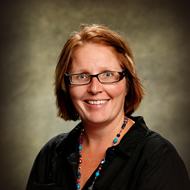 The North Dakota Association of Career & Technical Special Needs Educators (NDACTSNE) held their Spring Professional Development Conference which provided training opportunities, networking and goal development. NDACTSNE is a professional organization for educators, administrators, paraprofessionals, and others concerned with the success of special population students.
One of their goals is educational equity which is for all students to share an equal opportunity to learn and to achieve, regardless of race, color, religion, national origin, disability or gender. To provide all students a safe and equitable school environment is an on-going challenge to public school officials and the greater educational community.
At this year's Spring Conference Dakota College's TRIO Director, Brandi Rudland was named Outstanding Member of the Year. Brandi has taught Special Need classes for Dakota College at Bottineau for ?years and most recently online.  Her new role as the TRIO Director coordinates efforts for the campus to increase college retention and graduation rates and ensure good academic standing of the participants it serves. Participants of the TRiO program are academically at-risk, low-income, first-generation college students, and/or students with disabilities.